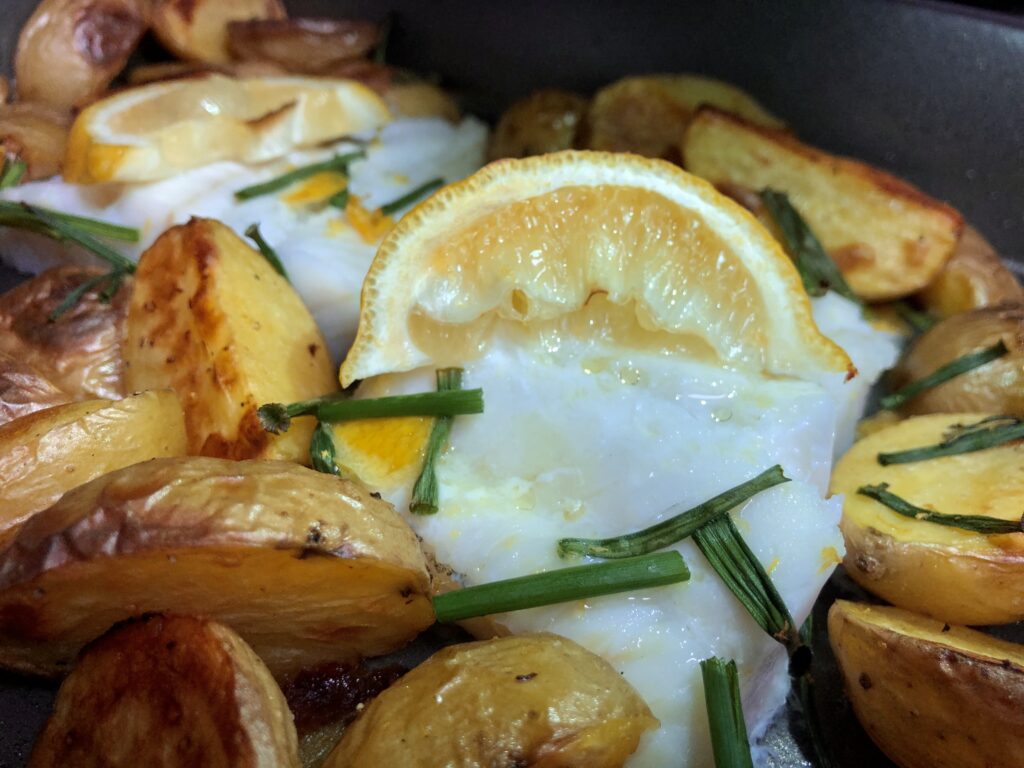 Shelly Darlingson in The House Bunny once said, "Instead of the mahi-mahi, may I just get one mahi? Because I'm not that hungry." To that, I would respond, "No, because this week's recipe is cod." For this first week, we're starting with some basics. This may be the easiest recipe I've ever made, and it had my roommates asking me how I became such an elite chef. It's healthy, SO simple, and tastes amazing.
Cod
First thing's first: the fish. Because I'm on a budget, I used frozen cod fillets from Kroger. They were delicious. However, if I  were living with my parents, I would've asked my mom to pick up some fresh cod for us. That being said, frozen is perfect, but if you're feeling like treating yourself a little extra, go for the fresh!
Potatoes
I used Yukon gold potatoes. They were delightful. If you prefer a different type, feel free to mix it up. If you're looking for more greens, you can also add some steamed broccoli or another vegetable as an extra side.
Lemon
I'm a big fan of lemons. Lemons might even say I'm their biggest fan. I used juice from half a lemon between the 2 fillets I made, and I zested the whole lemon on top of both the fish and potatoes. I also used a paring knife to get some larger chunks of zest and put a lemon slice on top of each fillet while baking. This all added great flavor. If you don't have a zester, you can just use larger chunks by peeling them with a knife, or lemon juice alone will taste great as well. It all depends on how intense you want the lemon flavor to be.
Utensils
Besides a zester (optional), a knife to cut the potatoes, and a cutting board, the only other kitchen utensil needed is a pan to bake everything in. I used a 9×13 cake pan.
Recipe
Prep time: 10 minutes
Cook time: 40 minutes
Ingredients:
Fresh or frozen cod fillets
1 lb Yukon gold potatoes for every 2-3 fillets
1 lemon
1 Tbsp fresh chives
Olive oil
Salt
Pepper
Tartar Sauce (Optional):
Preheat the oven to 450
Cut the potatoes in half (if small) or into bite-sized chunks. Place them in your pan and toss in 1 Tbsp olive oil for every 1 pound of potatoes. Season with salt and pepper, and toss to coat. Roast for 20 minutes, stir, and then bake for another 10.
Add the cod to the pan, moving the potatoes to the sides. Lightly drizzle the fillets in olive oil (a little less than 1/2 tsp per fillet). Sprinkle lemon zest and chives over everything, and squeeze lemon juice over the fillets.
Cook for 10 minutes or until the fillets are the same color throughout.
For tartar sauce, combine mayonnaise and relish to taste.
Don't be afraid to make this recipe your own! Play around with the ingredient proportions according to what you like.
If there's a recipe or type of food you'd like me to feature, click here. After making this meal, let me know how it went! If you're wondering who I am or why I'm posting this, check out my last post.
Thanks for baking with me, I hope you enjoy! I'll be back with movie recommendations tomorrow.
-Caitlin