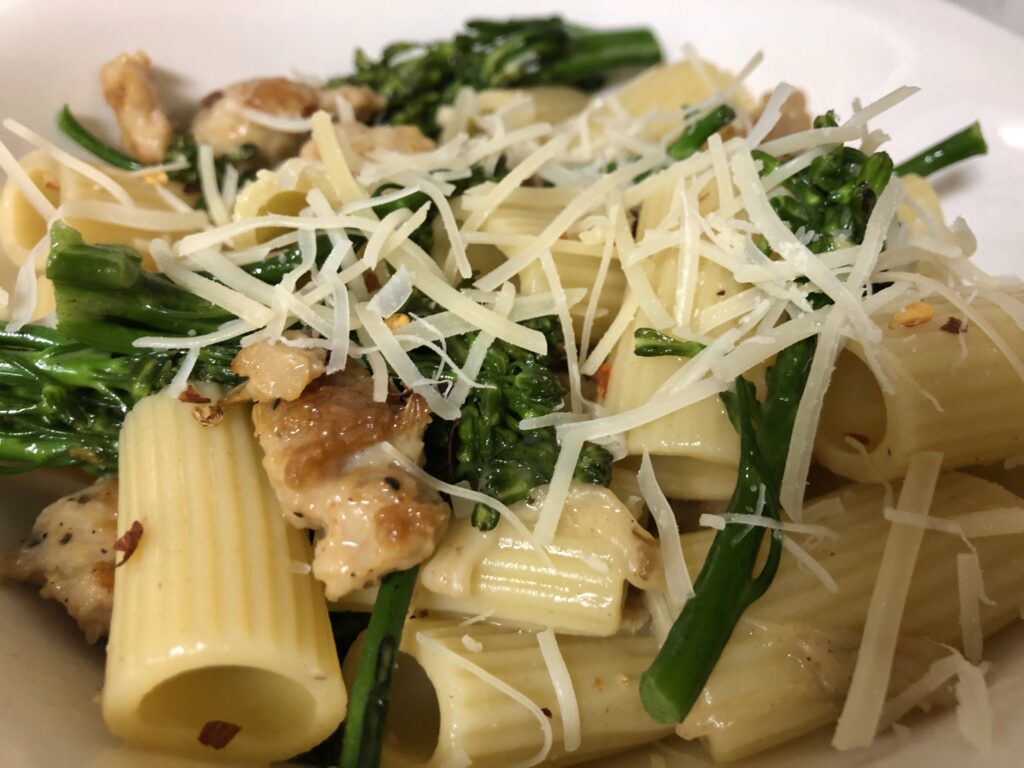 In The Godfather II, Michael Corleone said "Keep your friends close, but your enemies closer." Pasta might be the enemy that I keep closest. I found this pasta recipe in a cookbook from a thrift store called "Meals Made Easy," and it did not disappoint. It was simple, quick, and tasty, of course! I'm also excited to have recommended wines to pair with the meal from a friend of mine who's studying to be a sommelier.
Sausage:
I used hot Italian chicken sausage and loved the spice it added to the dish. If you prefer turkey or regular sausage, both of those can be used as well.
Measurements:
Per usual, the measurements I'll give are more of a suggestion than anything. I didn't measure anything when I made this dish, but I'm providing the measurements the cookbook recommended. I added less cheese and more red pepper flakes to fit my personal tastes, and I encourage you to cater the recipe to your taste as well!
Wine Pairing:
Because I typically go for whatever is the cheapest on the bottom shelf, I'll be directly quoting my friend, Aaron, on this:
"An old world Pinot Noir would pair well with this dish. The acidity from the Pinot would provide a good pallet to cut through the texture from the fat of the dish while still providing a smooth and soft flavor and bringing in some nice background notes of tobacco and leather. Any Pinot out of Italy or Germany should do the trick."
-Aaron
Isn't he amazing? The answer is yes. Thank you, Aaron!
Recipe:
Prep time: 5 minutes
Cook time: 20 minutes
Serves: 2-3
Ingredients:
Half pound of dry rigatoni (can sub penne)
Half pound Italian chicken, turkey, or pork sausage (about 3 links)
1 clove garlic
1/2 C chicken broth
1/8 tsp red pepper flakes
1 bunch broccolini (sometimes called baby broccoli)
2 Tbsp unsalted butter
1/4 to 1/2 C grated or shredded Parmesan
1 Tbsp olive oil
Steps:
Cut stems off broccolini and cut florets into bite-sized pieces
Cook pasta according to package directions
Meanwhile, heat olive oil in a medium or large pan over medium heat. Remove the casings from the sausage. Add sausage to pan and crumble with a spoon. Stir regularly until cooked through (5-7 minutes)
Add the garlic (pressed or sliced) and cook for another minute
Add the broth and red pepper flakes and bring to a boil
Add the broccolini and cover for 2-3 minutes or until tender
Stir in butter and Parmesan and cook uncovered until the sauce thickens slightly, about 2 minutes
Combine pan contents with drained pasta and toss. Season with salt and pepper.
Set aside for a few minutes before serving to allow the pasta to absorb some of the flavor
Top with Parmesan and serve!
I hope you enjoy! If you're not quite as close with your enemy, pasta, as I am, check out last week's recipe, spicy chicken and peppers. Let me know how you like this recipe, and which recipes you'd like to see on my blog. I'll be back with movies on Thursday, but if you MUST have a movie to watch sooner, here are last week's recommendations.
As they say in Italy, home of pasta, ciao!
-Caitlin