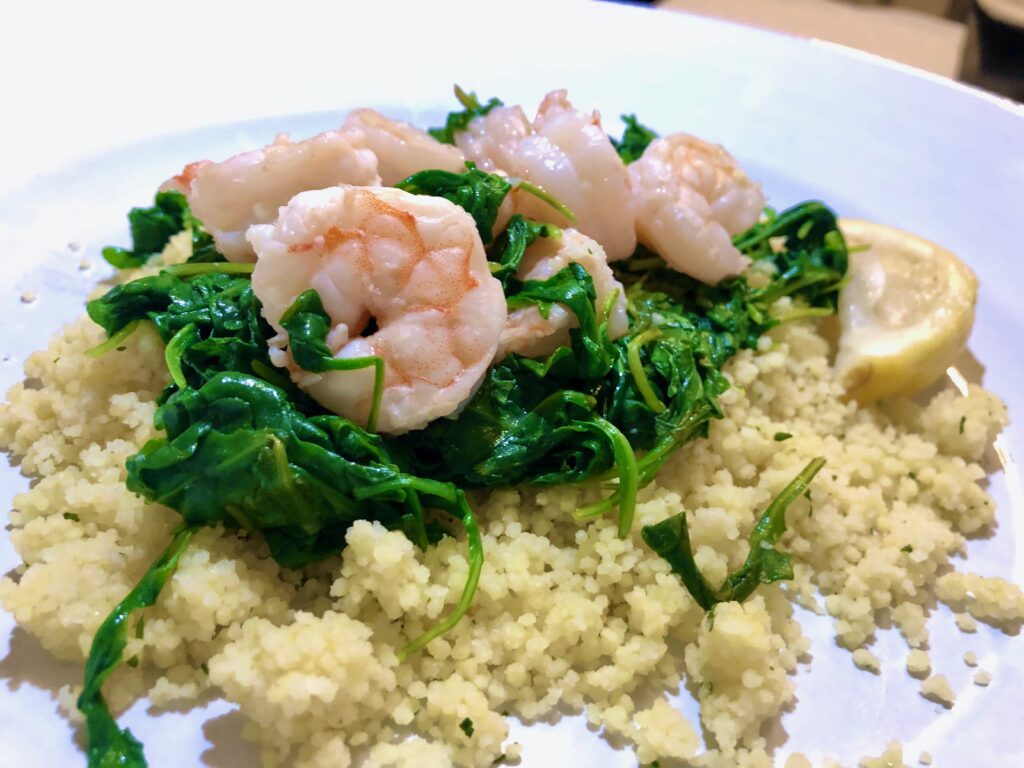 It's getting pretty frigid outside, so it's about time to buy some seafood and pretend you're on a tropical vacation. This shrimp recipe is extremely easy, fast, and, as always, tasty as hell. You'll be surprised how much flavor so few ingredients can offer.
Ingredient Guidance
Fresh or frozen shrimp will work for this recipe. Of course, if you buy fresh shrimp it will add a few minutes to the total recipe time I have listed due to having to clean them. The called for 5 ounces of arugula is an entire standard tub or bag of greens sold at most grocery stores. If you're trying to be more health conscious, you can always sub quinoa for the couscous.
Wine Pairing:
A sauvignon blanc would be the ultimate compliment to this dish. This wine provides dry, light texture with bright fruit including sharp lemon and and tart white peach. Sauvignon blanc will make this shrimp recipe incomparable in flavor! The arugula will be nicely complimented by the herbal notes of the wine. It will also serve as an instant pallet pleaser, refreshing your tastebuds with each sip and making you want to indulge in your meal even further.
-Aaron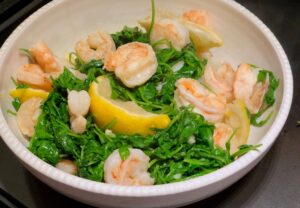 Shrimp Recipe:
Ingredients:
1 C instant couscous
3 T olive oil
1 clove garlic (minced or thinly sliced)
5 ounce bag/tub of arugula
1 pound fresh or frozen uncooked shrimp (thawed)
1 lemon cut into wedges
Salt
Pepper
Instructions:
Prepare the couscous according to package directions, including package seasoning if desired
Heat 2 Tbsp olive oil in a medium-large skillet over medium heat
Add the garlic and cook 1 minute
Add arugula and cook until wilted, then transfer to a plate
Rinse the shrimp and pat dry with paper towels
Heat 1 Tbsp olive oil in skillet on medium-high heat
Add the shrimp. Season with salt and pepper. Squeeze a few lemon wedges over the shrimp and add to the pan. Cook the shrimp about 2 minutes on each side or just until it is pink and cooked through.
Return the garlic and arugula to the skillet and toss with shrimp
Serve over couscous
Voila- a tropical vacation right at your dinner table in the midst of incrementally worsening weather. You're welcome! Let me know how you like this shrimp recipe or if you have questions here. If there's a particular dish you'd like to see a recipe for, tell me here.
I have a special movie list prepared for Thursday to celebrate HalloWEEK: Instead of just one Halloween movie featured, they'll all be celebrating the holiday. As you can tell, I love Halloween. If you're too impatient to wait until Thursday, here are last week's movies. Also, if one email a week isn't enough of me for you, I would love for you to follow along on Facebook and Instagram.
Happy vacationing! See you Thursday.
-Caitlin