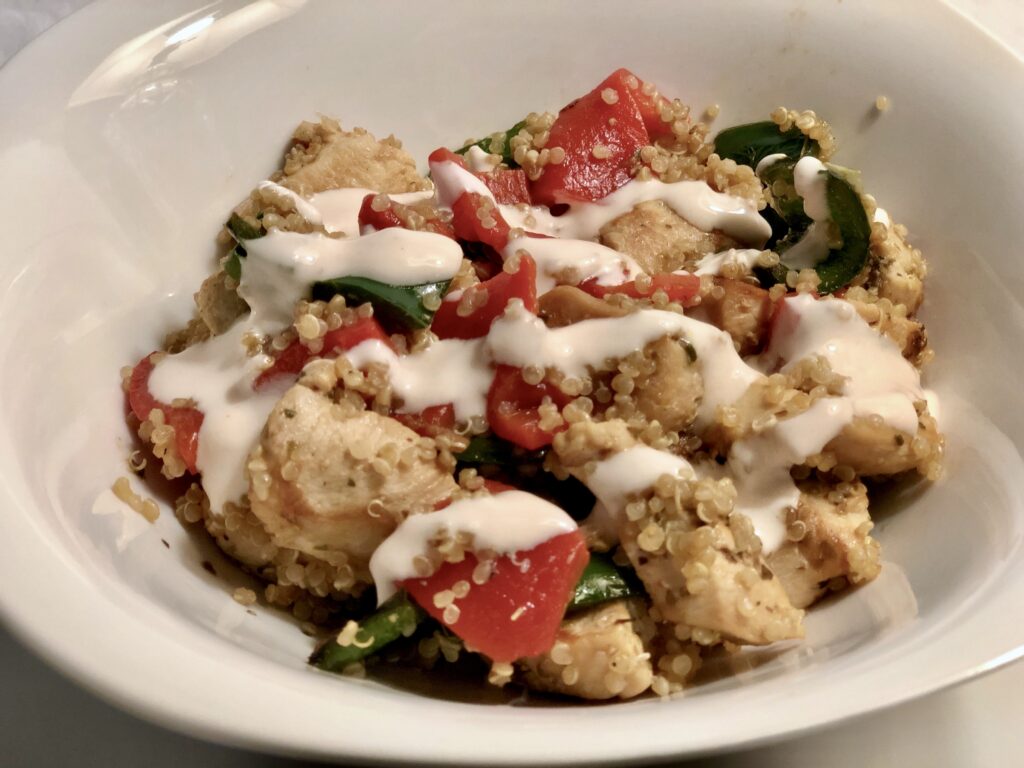 Easy, breezy, beautiful? More like easy, delicious, and just as delicious reheated! Yes, this is a movie blog, but Covergirl commercials are on TV so I think that intro is on brand by association. Anyways, this week I have a recipe for chicken with poblano peppers and roasted red peppers over quinoa or couscous topped with a spicy sour cream sauce. I prefer quinoa rather than couscous to balance out my post-dinner pop tart, but both taste great.
Poblano Peppers
Heed my warning: WASH YOUR HANDS extremely thoroughly after cutting poblano peppers. They don't taste very hot, but they will absolutely burn your eyes. If you're like me and had no idea what to look for at the grocery store, they're about the size of a bell pepper but dark green and flat.
Roasted Red Peppers
Roasted Red peppers can be found at the grocery store in a jar, usually near pickles and capers. This may seem obvious to many people, but if I can save even one person the pain of wandering through the grocery store for 20 minutes looking for the last thing on their list, I would like to do so.
Recipe
Prep time: 15 minutes
Cook time: 15 minutes
Serves: 2
Ingredients:
10 oz Chicken Breast, cut into bite sized pieces (2 small-medium chicken breasts)
1 Poblano Pepper
1 oz Roasted Red Pepper
1 Tbsp Sherry Cooking Wine
1 tsp Oregano
1 Clove Garlic
1 Tbsp Hot Sauce
1/2 C couscous or quinoa
3/4 Cup Sour Cream
Olive Oil
Steps:
Prepare ingredients: cut chicken into bite-sized pieces, remove stems and seeds from poblano peppers, roughly chop all peppers, peel the garlic.
Combine sour cream with hot sauce and 2 tablespoons of water in a small bowl. Season with salt and pepper to taste if desired.
Cook the couscous or quinoa according to package directions. Season with salt and pepper.
Heat olive oil in a medium pan on medium-high heat. Add chicken and season with salt, pepper, and oregano. Cook for a few minutes without stirring. When the chicken is lightly browned on one side, stir until cooked through. Transfer the chicken to a bowl.
Add another drizzle of olive oil to the same pan on medium heat. Add the poblano pepper. Cook without stirring for 1-2 minutes. Add chopped or pressed garlic and season with salt and pepper. Stir frequently for another minute, then add sherry cooking wine a little at a time, as it may splash. Stir frequently for another minute or until the liquid is cooked off.
Add roasted red pepper, poblano pepper, and chicken to the pot with couscous or quinoa.
Serve with spicy sour cream drizzled on top.
If you want to add some extra flavor, you can add in black olives or cook the quinoa/couscous in chicken broth! Also, the sour cream to hot sauce ratio is more of a suggestion- I love spicy, so I always do extra hot sauce. I found this recipe on Blue Apron. Here is the original. If you're feeling more like seafood tonight, check out last week's recipe. To suggest a recipe, click here. I'd love to hear from you!
Once again, thanks for cooking with me. I'll be back with movies on Thursday to complete the plan for your night.
-Caitlin