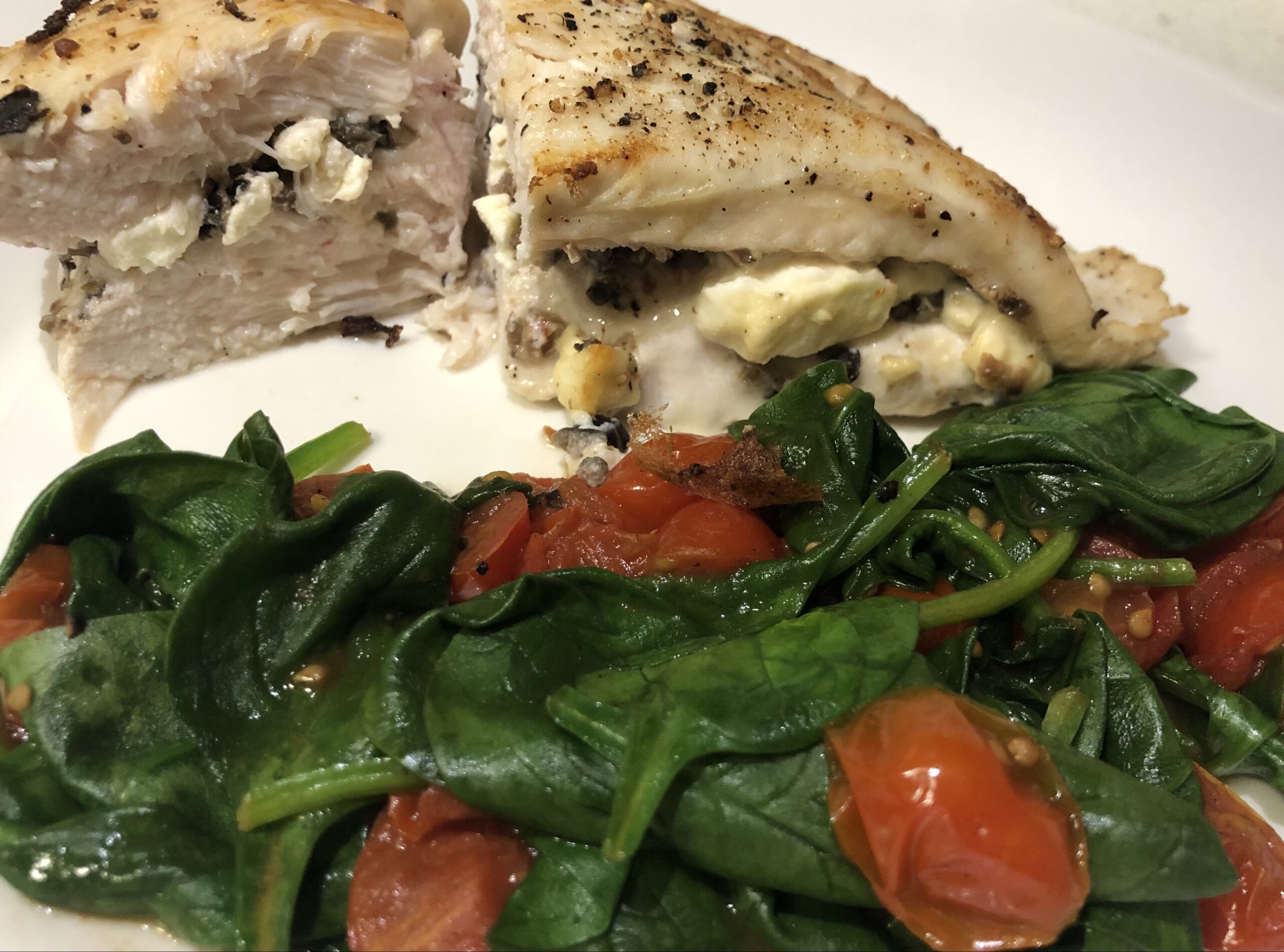 If, like me, your new year's resolution is to eat more black olives, I have a great recipe that will contribute to your goal! Just kidding, that would have been a pretty strange resolution.  However, I'd never joke around about how easy and delicious this mediterranean chicken recipe is.
Tips:
Don't be afraid to play around with the ingredient measurements! Everything can be based on taste preference. If you want to add some carbs in, a side of basmati rice or Mediterranean rice pilaf would pair well.
Wine Pairing: Pinot Noir
Mediterranean Chicken Recipe:
Time: 30 minutes
Serves: 2
Ingredients:
2 chicken breasts
Crumbled Feta (preferably with greek seasoning)
Small can of sliced ripe olives
Baby spinach
Grape tomato
1 lemon
Olive oil
Salt
Pepper
Steps:
Preheat the oven to 375 F.
Combine sliced olives and feta cheese in a small bowl. Proportions vary based on preference, but about 2 Tbsp olives and 1/4 cup feta.
Season the chicken with salt and pepper
Using a sharp knife, cut a deep pocket in the middle of both chicken breasts. Using a spoon, stuff some of the feta mixture into each chicken breast.
Heat a drizzle of olive oil in a skillet on medium heat. Add the chicken and cook until browned, about 2 minutes on each side. Then, transfer the chicken to a baking dish and bake until cooked through, about 15-20 minutes depending on how thick the chicken breasts are.
Meanwhile, half the grape tomatoes. Heat another drizzle of oil in the skillet, then add tomatoes and spinach. season with salt and pepper and cook until spinach is wilted.
Serve with a slice of lemon.
As always, feel free to make this recipe your own. If you're not an olive person, don't worry! The olive flavor isn't overwhelming. However, if you hate olives with a passion and just want a warm cup of soup, check out my last recipe, grandma's chili. I'll post some movies to go with the mediterranean chicken on Thursday, but, meanwhile, here are my thoughts on Fight Club and Knives Out. To stay in the loop with new recipes and movies, sign up for my email list here.
Enjoy!
-Caitlin
DAAM. Sounds like a plan.