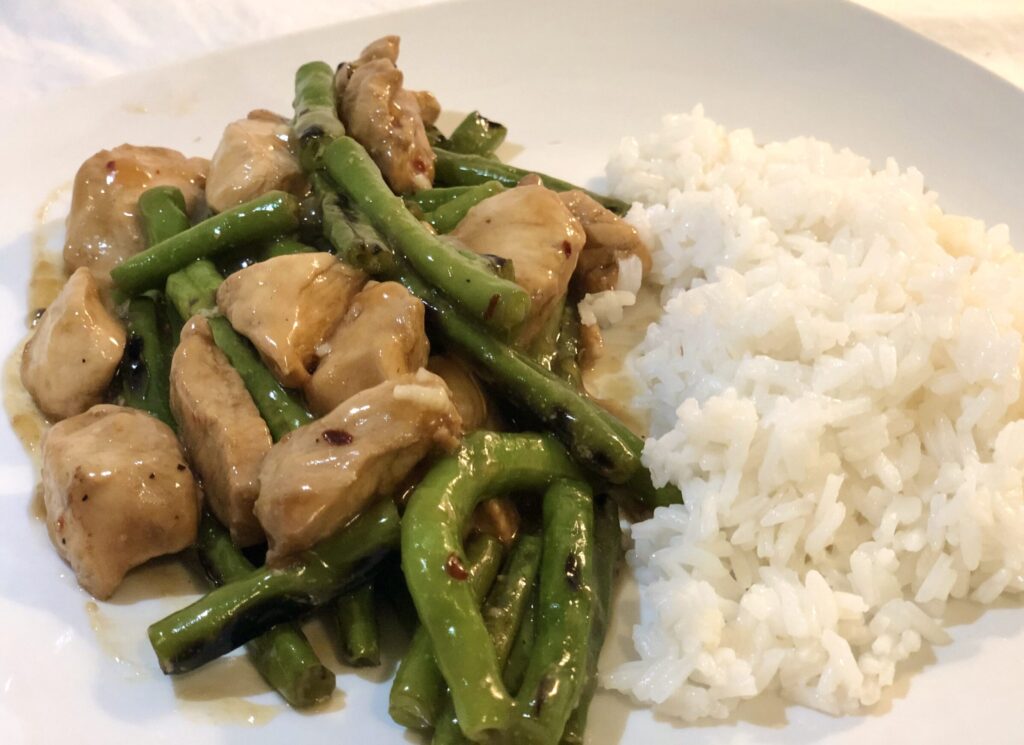 If you don't love lemon, you are incorrect. Lemon adds so much to any dish, and I won't apologize for the vast amount of recipes that utilize lemon's magnificent flavor on my blog. This week: Honey lemon chicken and green beans. It's one of my favorites, mom approved, dairy free, and pretty healthy. When you taste it, you'll be like, "DAAM, that tastes good."
Utensils needed:
Lemon zest is used in the sauce, but if you don't have a zester on hand, here are some alternative options. A garlic press is also used, but if you're in college and cannot be bothered to spend that $8, you can finely mince it with a knife. Other than that, you'll just need a pot for rice and a large pan for the rest. If you don't have a saucepan large enough (like me when I first tried this recipe), you can use a smaller saucepan for the chicken and beans. Then, cook the sauce in a larger pot and add in the chicken and beans to mix everything together once the sauce is done.
Wine Pairing by Aaron:
Riesling is the wine that comes to mind when thinking about this dish. A good starter wine for most, Riesling contains a generally low alcohol content and a sweeter flavor. Largely produced in Alsace France, Riesling carries a unique history to compliment this dish. Alsace has been traded by the Germans and French for generations, creating a unique blend of both cultures still present in the wine today. With bright and sweet fruits, such as green apple and peach to compliment the honey and lemon, a lighter body in order to not overpower the dish. This wine is truly a pallet pleaser.
-Aaron
Recipe:
Total time: 30 minutes
Serves: 3
Ingredients:
Chicken & Beans
1 1/2 lb boneless skinless chicken breasts
3 Tbsp low sodium soy sauce
2 Tbsp rice wine vinegar
12 oz green beans
Olive oil
1 C white rice (optional)
Honey Lemon Sauce
3/4 C low sodium chicken broth
1 large lemon
1/4 C honey
2 Tbsp cornstarch
1/4 tsp ground ginger
1/2 tsp red pepper flakes
1 clove garlic
Instructions:
Cut the chicken into bite-sized pieces
Combine chicken, soy sauce, and vinegar in a bag or bowl. Coat the chicken and leave while prepping recipe, or refrigerate for up to 8 hours.
Wash and cut the ends off the green beans
Mix together all sauce ingredients in a small bowl.
Heat a drizzle of olive oil in a pan on medium-high heat and add green beans. Season with salt. Stir regularly until the beans are cooked but still crisp.
Cook rice according to package directions.
Remove beans from pan and place onto a plate or in a bowl. Add a little more oil, then add in chicken and season with salt and pepper. Cook, stirring regularly, until cooked through, about 5-7 minutes.
Move chicken to the plate or bowl with the beans and cover with foil to keep warm.
Pour sauce into pan. Stir and scrape the bottom of the pan regularly until the sauce is thick and slightly boiling.
Add the chicken and beans back in the pan and toss in sauce.
Serve over rice
Enjoy! Movies will be posted on Thursday, as usual. If there are any movies you'd like to be featured or recipes you'd like to request, I'd love to hear them. Click here to sign up for my weekly emails to stay in the loop. If you'd like to see the original recipe that I found on Pinterest, click here.
Lastly, thank you all for the support- I have received much more than I ever expected. My school project is ending next week, but I plan to keep writing due to the incredible amount of positive feedback I've received and because I love this DAAM blog!
-Caitlin
DAAM. Sounds like a plan.