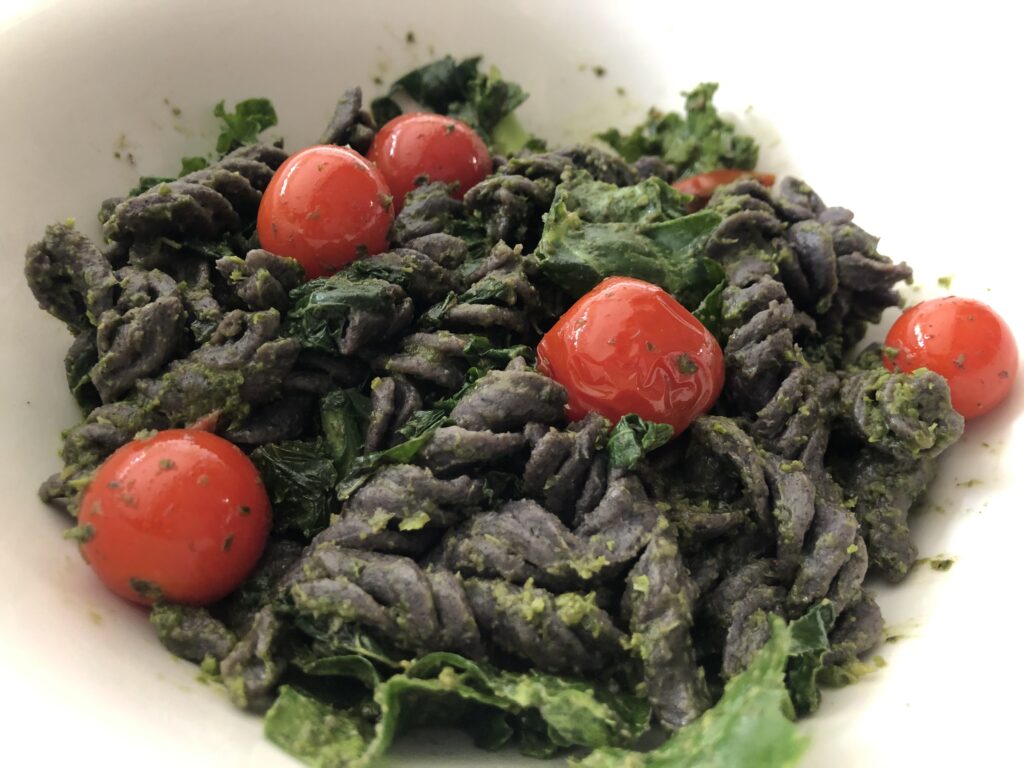 "No vegan diet, no vegan powers." This was spoken in the infamous movie Scott Pilgrim vs. the World. Even if you're not vegan, which I'm not, this vegan pesto pasta is delicious and could not be more simple. If you're feeling extra lazy, you could even make it all in one pot. It's also really healthy. It may even grant you some vegan powers, but who knows.
Ingredient Suggestions
Trader Joe's is one of my favorite places in the world. For this recipe, I use their vegan kale, cashew, & basil pesto as well as their black bean rotini. If you're not fortunate enough to live near a Trader Joe's, buy or make your favorite pesto and pasta of choice. The black bean pasta might not fit everyone's personal taste, so you do not have to use black bean pasta. Switching it up to any pasta will not take away from the recipe. If you don't have or don't like kale, broccoli greens or spinach will work as well. Kale rocks though.
Wine Pairing from Aaron:
Chianti Classico. The wine home to Tuscany was practically made by God to be paired with Italian dishes. 100% Sangiovese, this grape offers strong notes of red fruits and earthy undertones. Pesto contains strong flavors of basil, pine nuts, olive oil, and parmigiana. A close neighbor to Liguria, Italy, where pesto has its profound claim to fame, Tuscan Chianti offers equally strong, robust flavors. An interesting twist of black bean pasta will only highlight the organic earth such as the subtle notes of wet leaves and mushrooms, indicative of a Chianti.
Vegan Pesto Pasta:
Time: 15 minutes
Ingredients:
Black bean rotini (or any pasta of choice)
Vegan kale, cashew & basil pesto (or pesto of choice)
Kale
Grape tomatoes, halved if large
Coconut or olive oil
Mozzarella (optional)
Instructions:
Cook pasta according to package directions
Heat coconut or olive oil in a pan on medium heat. Add in grape tomatoes and kale. Cook until wilted.
Drain pasta, then combine in the pot with tomatoes and kale
Add a large scoop of pesto and stir
Serve topped with fresh mozzarella (only the non-vegans, of course)
Here's the lazy hack: Instead of cooking the tomato and kale in a pan, you can add them in uncooked to the pot with the pasta after it's drained, cover it with a lid, and wait for the steam to cook the veggies. Enjoy!
Per usual, movies will be out on Thursday. Here are last week's movies if you need one to watch before then.
-Caitlin